Publishing Alexa Skills with Amazon Alexa Skill Blueprints will allow you to create a variety of personal skills that are available for use exclusively on your Amazon Alexa-enabled devices.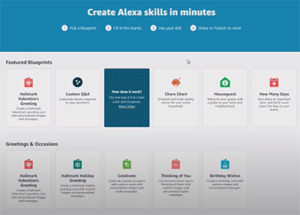 Create and publish a skill in minutes, with no coding required, using Alexa Skill Blueprints for your own personal use or for those family and friends that you have shared your personal skill with.
You also now have the option to publish to the Alexis Skill Store so customers can discover use and review your Alexa skill.
Skill Blueprints enable anyone to create and share customized Alexa skills simply by filling in the blanks to one of dozens of easy-to-use templates.
Learn how to create an Amazon Alexa skill and how to publish the Amazon skills you create to the Amazon Alexa Skills Store.
Once you have created your skill using Alexa Skill Blueprints, you navigate to the "Skills You've Made" page.
From here, find the Alexa skill you want to publish and select the "Details" link for that skill.
On the skill "Details" page, you can share your skill with specific people or publish it to the Alexa Skill Store so anyone can discover, use and review your skill. Be sure to follow the instructions on the page carefully.
It's important to choose an opening phrase and name for your skill that will be recognisable, memorable and descriptive.
Most of the information is auto-populated for you, though you can choose to edit these details as you wish.
Under Step 1, Name and Test, you can set the "Alexa Open" for your skill, which is the opening phrase for your skill which is what people will say when they want to use it.
Once you select your Alexa Open phrase and "Save Changes", in just a few minutes you'll be able to test this opening phrase on your Alexa enabled devices, to ensure you've selected just the right opening phrase.
Testing your Alexa Opening phrase is an important step because once your skill is published to the Alexa skill store you cannot change or edit the opening phrase for your skill.
Next, add the Alexis skill store name and the name of the person or company that owns the skill. Select "Next Details" to move on to the Details step.
In Step 2, Details, you can select the most appropriate category and optional keywords, then upload your own icon or create one using the icon creator tool.
Add short and detailed descriptions to share what your skill can do. Select "Next Policy" to move on to the Policy step.
In Step 3, Policy, this allows you to select whether your skill was created for kids under the age of 13 or whether your skill contains advertising.
It's important to note that even after you've started the publishing flow, you can always leave and come back to finish whenever you have time.
Once everything is filled out you can review and submit for certification to the Alexus Skill Store.
Once you publish your Alexa Skill, it will be reviewed by Amazon and you'll receive an email with the outcome within the next one to two business days.
If you change your mind at any point before your skill is approved, you can cancel and maintain the skill for personal use.
Once your skill is published you can share and promote it from the Alexa Skill Store.
As you can see it's easy to get started creating and publishing an Alexa Blueprint Skill.
For more information, watch this video tutorial below from the Alexa Developers team and you will learn how to create an opening phrase, test the opening phrase on Amazon Alexa enabled devices, publish the skill you create to the Amazon Alexa Skills Store, and share your creation with the world: